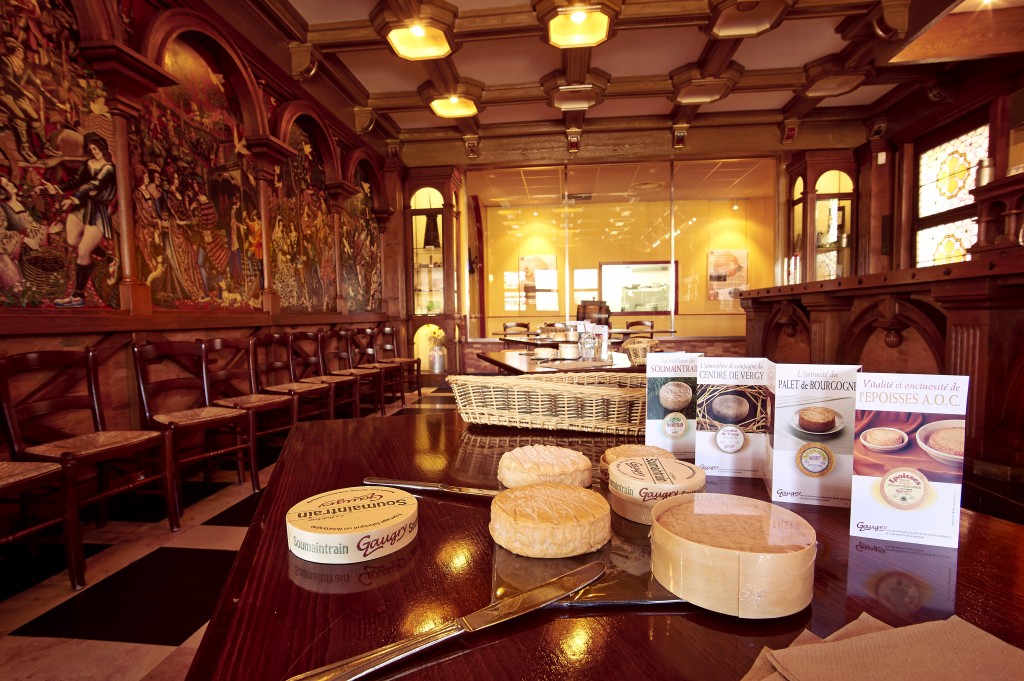 Cheese platters
We offer two classic cheese platters, but you could also select your own blend of cheeses from the ranges available. If you like, you could also use one of our large "cheese boxes" instead of a platter (if it's intended as a gift or to travel, for example).
The Gaugry selection
we offer a complete selection of the Gaugry range of cheeses (Epoisses AOP, Ami du Chambertin, Soumaintrain IGP, Plaisir au Chablis, Cendré de Vergy and Petit Gaugry.)
The Burgundy selection
this selection takes you on a voyage of discovery through the cheeses of our region. It consists of Epoisses AOP, Soumaintrain IGP, Chaource, Brillât Savarin, demi Cîteaux and chèvre de Vézelay.
You could also compose a cheese platter to suit your tastes from among more than 100 cheese varieties on offer. For further information, don't hesitate to get in touch or pay us a visit at the dairy.
Cheese meals
A meal composed solely of cheeses: this is both an original idea and simple to organise. We are here to offer advice and help you compose your platters. You can sample a dozen different cheeses starting with the mildest and ending with the more robust flavours. We number the tasting order and provide you with an information sheet detailing the best wines and breads to accompany your platter.
For groups of 20 or more visitors, we can also organise cheese meals in our reception room. You're free to bring the wines of your choice and you can also combine this with a tour of our production site.
Mâchons
A speciality of Lyon, a "mâchon" is a meal (usually enjoyed in the morning) consisting of cold meats, cheeses and local wines.
For 15 people, we offer a lunch or dinner buffet with a range of cold meats, cheeses (7 different varieties), dessert and coffee.
A raclette to share with friends
Raclette marks the return of winter! We offer a range of sliced raclette cheese platters.
Our raclette selection: raw milk Jura, smoked (Brézain), Bourgogne à la moutarde or Savoie matured with white wine
Even more original and tasty, we also offer raclettes with Morbier AOP or with Bleu de Gex AOP.
Recommended accompaniments: A selection of cold meats, gherkins and potatoes turn this meal into a real festive treat.
Fondue Savoyarde
For a great evening with friends or family, nothing beats a fondue savoyarde.
We have selected three classic cheeses to guarantee a sublime flavour.
We also offer a delicious Swiss fondue with the famous Vacherin Fribourgeois cheese grated and ready to use!
All you need to do is melt the cheese while adding white wine.
Suggestion: use yesterday's bread so it won't be too soft.