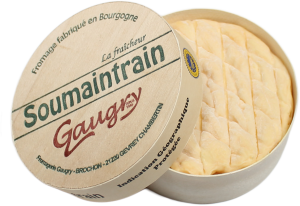 Soumaintrain is a cheese from the Yonne, where it has been handcrafted by local farmers for more than a century. It is a soft cows' milk cheese with a washed rind.
Soumaintrain is only washed with brine (salted water) which gives the rind a white to orange colouration. It is naturally wrinkled and lightly floral. This cheese has a smooth consistency is soft to the touch, and its flavour is typical of cheeses from the region: quite strong and sweet in the mouth. Soumaintrain is now recognized PGI label (Protected Geographical Indication)
Tasting recommendation
As a starter:
Enjoy with a green salad on hot croutons, served with a white wine: Bourgogne Aligoté, Chablis or a white wine from the Loire region.
If you're savouring it unheated, a twist of the pepper mill will help to bring out its best aromas.
Product details